INCREDIBLE BUT TRUE
The Unraveling of a Maritime Power
Comments by William R. Carr
Senator Wesley L. Jones, in 1913 said: "Since 1885, foreign ships have carried over $50,000,000,000 of our foreign commerce. Estimating the freight at 15 per cent, we have paid them over $7,500,000,000 for getting our products to their markets and supplying our own. Of what benefit is a balance of trade in our favor if we pay out most of it for freight?"
OF COURSE WE NO LONGER HAVE THE BENEFIT OF A FAVORABLE BALANCE OF TRADE — NOT BY A LONG SHOT. A FAVORABLE BALANCE OF TRADE IS NOW ANCIENT HISTORY. THAT'S BAD ENOUGH, BUT WE ALSO PAY FREIGHT TO THE COMPETITION TO DELIVER THE FOREIGN GOODS WE'VE COME TO DEPEND ON FOR OUR CREATURE COMFORTS AND NATIONAL ECONOMIC SURVIVAL — AND WE THINK WE ARE GETTING A BARGAIN!
AS A NATION, WE'VE WORKED OURSELVES INTO AN UNENVIABLE POSITION, BUT FEW ARE AWARE OF IT. FOR SOME OF US, ITS AN UNBELIEVABLE POSITION. IN A MATTER OF A FEW SHORT DECADES WE'VE GONE FROM BEING THE GREATEST AND MOST INDEPENDENT NATION TO A VERY DEPENDENT NATION THAT MUST IMPORT A FRIGHTENING PERCENTAGE OF OUR EVERYDAY NECESSITIES. (HOW COULD A SUPPOSEDLY REPRESENTATIVE GOVERNMENT HAVE ALLOWED SUCH A THING TO HAPPEN?) IF THE CHINA TRADE WERE CUT OFF, WAL-MART AND OTHER CORPORATE RETAIL GIANTS WOULD PROBABLY GO BANKRUPT IN A MATTER OF WEEKS! IF THAT HAPPENED, WHERE WOULD WE GET OUR STUFF?
IN ANY CASE, WE SEEM TO HAVE BOUGHT INTO THE MYTH THAT WE'RE GETTING AN EXCEPTIONAL BARGAIN ON OUR IMPORTS. BUT, IN FACT, ANY NATION THAT DOES NOT CARRY AT LEAST HALF OF ITS OWN TRADE IN ITS OWN SHIPS GETS SHORT-CHANGED ON EVERY TRADE ITEM THAT CROSSES ITS DOCKS.
WHAT DOES THIS MEAN TO AN ECONOMY WITH $1.5 TRILLION WORTH OF FOREIGN TRADE — IN WHICH ONLY ABOUT TWO OR THREE PERCENT IS CARRIED IN ITS OWN SHIPS? THE ANNUAL LOSS TO THE ECONOMY IS CALCULATED IN THE BILLIONS OF DOLLARS!
REMEMBER, TRADE (AS DESIRABLE AS IT OFTEN IS), DOES NOT ADD VALUE TO TRADE-GOODS OR CREATE NEW WEALTH — IT CREATES TRANSPORTATION COSTS.
IF THE ANNUAL VOLUME OF OUR OCEAN BORNE FOREIGN TRADE AMOUNTS TO $600,000,000,000, AND THE FREIGHT COSTS ON THAT VOLUME OF TRADE IS ONLY ONE PERCENT, THEN WE ARE PAYING THE COMPETITION $6,000,000,000 A YEAR TO DELIVER OUR GOODS. THIS IS A SIX BILLION DOLLAR TRANSFER OF WEALTH TO THE COMPETITION. BY DEFAULT THIS IS A SIX BILLION DOLLAR SUBSIDY TO THE INTERNATIONAL COMPETITION.
WE NOW SUBSIDIZE THE AMERICAN MERCHANT MARINE TO THE TUNE OF A MERE $102 MILLION. THE RATIONALE FOR THIS SUBSIDY IS NATIONAL SECURITY, NOT ECONOMIC (YET OUR FLEET IS WOEFULLY INADEQUATE IN THE EVENT OF A MAJOR WAR). IF THE RATIONALE FOR OUR MERCHANT MARINE SUBSIDY WERE BASED ON SOUND ECONOMICS AND NATIONAL SECURITY, IT WOULD BE MORE ON THE ORDER OF THREE BILLION DOLLARS A YEAR RATHER THAN A HUNDRED MILLION — THE IDEA BEING TO FACILITATE AN AMERICAN MERCHANT MARINE THAT COULD CARRY AT LEAST HALF OF OUR TRADE.
IF WE COULD CAPTURE HALF OF THAT SIX BILLION DOLLARS IN FREIGHT REVENUE ONTO THE PLUS SIDE OF OUR NATIONAL ECONOMIC BALANCE SHEET, THE WHOLE OF WHAT IS CURRENTLY AN OUTRIGHT SIX BILLION DOLLAR LOSS WOULD BE CANCELLED OUT, AND WE WOULD COLLECT THREE BILLION IN FREIGHT REVENUES WHILE WE PAY OUT THREE BILLION IN FREIGHT REVENUES.
THE WAY IT IS NOW, WITH THE CURRENT MERCHANT MARINE SUBSIDY LEVELS, WE PAY OUT ONE HUNDRED MILLION IN SUBSIDIES, PLUS ANOTHER SIX BILLION DOLLARS IN FREIGHT COSTS PAID TO THE COMPETITION. (THE SMALL AMOUNT WE RECEIVE IN FREIGHT REVENUES FROM THE SHIPS WE DO HAVE CAN BE IGNORED FOR THIS ILLUSTRATION.)
WOULD IT MAKE ECONOMIC SENSE TO SPEND THREE BILLION DOLLARS A YEAR TO SAVE SIX BILLION DOLLARS? (THE EXPERTS HAVE ALREADY DECIDED THAT IT WOULD NOT.) OF COURSE, IT WOULD BE FREE TRADE HERESY TO DO SO IN AN ERA WHERE WE ENTHUSIASTICALLY CHAMPION SELF-DESTRUCTIVE NATIONAL ECONOMIC POLICIES. BUT IT WOULD MAKE ECONOMIC SENSE IN A RATIONAL WORLD WHERE FULL NATIONAL SOVEREIGNTY AND COMMON SENSE REIGNED. HOW? BECAUSE THE SUBSIDY WOULD SUPPORT WHOLE INDUSTRIES AND TENS OF THOUSANDS OF MARITIME INDUSTRY JOBS, BENEFITING THE STAKEHOLDERS OF THE NATION (I.E., ALL AMERICANS) AND THE AMERICAN ECONOMY AS A WHOLE.
THE SIMPLEST WAY TO SEE THIS IS TO REALIZE THAT IF BOTH THE INDUSTRIES AND THEIR WORKERS WERE AMERICANS, THE ENTIRE SUBSIDY, ALONG WITH INDUSTRY PROFITS, WOULD BE RETURNED TO, AND RECYCLED THROUGH, THE AMERICAN ECONOMY, TO THE BENEFIT OF THE NATION AS A WHOLE. SUCH SUBSIDIES RETURN A PROFIT TO THE NATION (EVEN IF AMERICAN WORKERS BENEFIT THROUGH AN AMERICAN INDUSTRIAL WAGE). THERE WOULD BE NO ECONOMIC LOSS, BUT RATHER AN ECONOMIC "VALUE-ADDED" FACTOR. THE BALANCE SHEET WOULD SHOW A SIX BILLION DOLLAR EXPENDITURE AND A SIX BILLION DOLLAR-PLUS PROFITS RETURN.
THE CURRENT BALANCE SHEET SHOWS A HUNDRED MILLION DOLLAR EXPENDITURE COMBINED WITH A SIX MILLION DOLLAR LOSS TO THE ECONOMY ON THE "RETURN" SIDE OF THE LEDGER. OF COURSE PROFESSIONAL ECONOMISTS AND NATIONAL POLICY MAKERS DON'T SEE THIS.
AS IF THAT WERE NOT ENOUGH...!!!
NOT ONLY DO FOREIGN SHIPS CARRY ALMOST ALL OF OUR IMPORTS AND EXPORTS — MOST OF THE FEW REMAINING AMERICAN FLAG SHIPS WERE FOREIGN BUILT AND ARE OWNED BY FOREIGN CORPORATIONS!
THAT IS INCREDIBLE ENOUGH! IT'S DIFFICULT TO FIND MUCH ON CONSUMER SHELVES THAT ISN'T MADE IN CHINA OR SOME OTHER DISTANT PRODUCER NATION. BUT IT ISN'T ONLY CONSUMER ITEMS WE DEPEND ON CHINA FOR — TODAY EVEN OUR DOMESTIC PORT INFRASTRUCTURE IS INCREASINGLY BUILT FOREIGN. THE VERY CRANES THAT LOAD AND UNLOAD SHIPS IN AMERICAN PORTS ARE "MADE IN CHINA!" OF COURSE, THEY ARE DELIVERED BY CHINESE SHIPS.
THIS INCREDIBLE PERVERSITY IS EVIDENCE OF NATIONAL ECONOMIC AND STRATEGIC SUICIDE, MADE POSSIBLE BY DE FACTO TREASON IN THE HIGHEST ECHELONS OF OUR GOVERNMENT, AND JUSTIFIED BY SUCH CRITICALLY DECEPTIVE EUPHEMISMS AS "FREE TRADE," THE "NEW ECONOMIC ORDER," AND "INTERNATIONAL INTERDEPENDENCE," KNOW COLLECTIVELY AS "GLOBALISM."
THIS EVEN SURPRISED ME!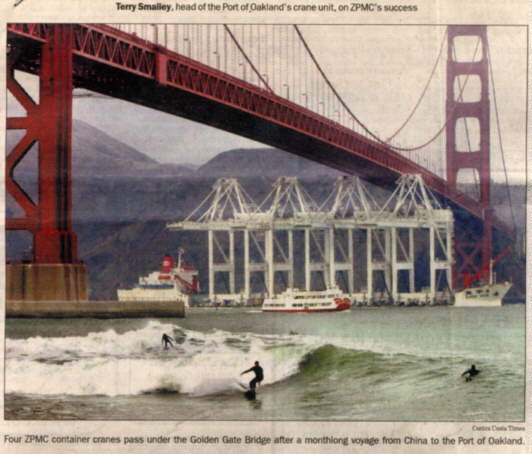 Incredible, but true! Four of the world's largest container cranes being delivered to San
Francisco and the port of Oakland. (Photo from the Sunday, Jan. 27, 2002 Los Angeles Times)
BUILT BY SHANGHAI ZHENHUA PORT MACHINERY CO. (KNOWN AS ZPMC), SUCH CHINESE MADE CRANES ARE NOW FIXTURES IN THE NATION'S LARGEST PORTS. INCLUDING MIAMI, LOS ANGELES/LONG BEACH, SAN FRANCISCO/OAKLAND, AND OTHERS. THE MAJOR STOCKHOLDER IN ZPMC, LIKE THE CHINESE OCEAN SHIPPING COMPANY (COSCO, WHICH WAS AWARDED THE SITE OF THE FORMER U.S. NAVAL SHIPYARD IN LONG BEACH, CALIFORNIA) IS THE CHINESE GOVERNMENT (WHICH, BESIDES STILL BEING A COMMUNIST GOVERNMENT, IS THE GOVERNMENT WITH A CENTURIES-OLD AXE TO GRIND WITH THE UNITED STATES AND FORMER COLONIAL POWERS, NOT TO MENTION THE CURRENT TAIWAN BOMBSHELL).
AMERICAN INDUSTRIAL AND MARITIME JOBS AND PUBLIC MONEYS, TO THE TUNE OF WHAT WILL ULTIMATELY BE BILLIONS OF DOLLARS, HAVE BEEN AWARDED TO OUR GREATEST POTENTIAL MILITARY COMPETITOR, AND THE WORLD'S NEXT SUPERPOWER. THIS AMOUNTS TO A MAJOR DIRECT SUBSIDY TO NOT ONLY THE INTERNATIONAL COMPETITION IN THINGS MARITIME, BUT TO OUR GREATEST POTENTIAL STRATEGIC ADVERSARY IN THE PACIFIC. THE PERVERSE ECONOMIC AND STRATEGIC POLICIES THAT PERMIT THIS LITERAL ECONOMIC PERVERSION AND TRAVESTY TO TAKE PLACE STAGGER THE IMAGINATION OF PERCEPTIVE AMERICANS. THE VARIOUS PORT AUTHORITIES WHO HAVE INVESTED MULTI-MILLIONS OF DOLLARS IN CHINESE MADE CRANES JUSTIFY THEIR ACTIONS BY POINTING OUT THAT A FEW MILLION DOLLARS HAVE BEEN SAVED. BUT A TREMENDOUS AMOUNT OF AMERICAN WEALTH WAS TRANSFERRED TO CHINA — MUCH MORE THAN MEETS THE EYE BY MERELY LOOKING AT THE PURCHASE ORDERS. ONE MUST LOOK ALSO AT THE BIG PICTURE — THE NATIONAL ECONOMIC BALANCE SHEET.
SUBSIDIZING CRITICAL AMERICAN INDUSTRIES IS "PROTECTIONIST," AND NO LONGER ALLOWED UNDER GLOBAL FREE TRADE POLICY. IT IS CRITICIZED AS "CORPORATE WELFARE" EVEN THOUGH THE VITAL INTERESTS OF AMERICAN LABOR AND AMERICAN NATIONAL ECONOMIC AND SECURITY INTERESTS WOULD BE SERVED. BUT IT IS CONSIDERED OKAY TO SUBSIDIZE THE COMPETITION AND TRANSFER HUGE AMOUNTS OF AMERICAN NATIONAL WEALTH ABROAD AS LONG AS GLOBAL CORPORATE INTERESTS ARE SERVED.
THE TRUE COST OF THIS NATIONAL FOLLY IS EVIDENT IN BOTH THE OBSCENE LEVEL OF OUR NATIONAL DEBT AND OUR BALANCE OF TRADE DEFICIT.
THE EXAMPLE OF ABRAHAM LINCOLN'S WISDOM IN ECONOMIC MATTERS HAS BEEN TOTALLY LOST ON MODERN AMERICAN ECONOMISTS AND POLITICIANS. THE RAILROAD BUILDING BOOM OF LINCOLN'S DAY PRESENTED A DILEMMA. THE STEEL AND RAILS NEEDED FOR RAILROAD CONSTRUCTION COULD HAVE BEEN IMPORTED FROM EUROPE AT CONSIDERABLE SAVINGS OVER PURCHASING THEM FROM FLEDGING AMERICAN FIRMS. "BUT," TO PARAPHRASE LINCOLN, "IF WE GET OUR RAILS FROM FOREIGN SUPPLIERS, WE WILL HAVE THE RAILS AND THEY WILL HAVE OUR MONEY. HOWEVER, IF WE BUY RAILS DOMESTICALLY, WE WILL HAVE THE RAILS AND OUR MONEY TOO." THAT SORT OF ECONOMIC REASONING, KNOWN AS "PROTECTIONISM," IS WHAT LED TO THE GREATEST NATIONAL SUCCESS STORY IN THE HISTORY OF NATION STATES.
AMERICAN BUILT CRANES, OF COURSE, WOULD HAVE COST MORE, BUT WE (AS STAKEHOLDERS IN THE AMERICAN ECONOMY) WOULD HAVE GOT BOTH THE CRANES AND THE MONEY — AND SAVED AND/OR CREATED MANY AMERICAN INDUSTRIAL JOBS.
A FEW INDIVIDUAL AMERICANS MANAGED TO INCREASE THEIR PERSONAL FORTUNES CONSIDERABLY IN THE CRANE TRANSACTIONS. WE GOT THE CRANES FOR OUR PORTS, BUT THE CHINESE GOVERNMENT AND ITS GROWING MILITARY-INDUSTRIAL COMPLEX GOT THE MONEY. CHINESE LABOR GOT THE JOBS THAT SHOULD HAVE BELONGED TO AMERICANS. AMERICANS GOT MORE DOWNSIZING, LAYOFFS, PAY AND BENEFIT CUTS, AND MORE DEBT.
UNDER GLOBALIST ECONOMIC POLICIES, THE NATIONAL BALANCE SHEET IS CONSIDERED IRRELEVANT. THINGS LIKE THE NATIONAL DEBT AND BALANCE OF TRADE DEFICIT ARE NOT IMPORTANT AS LONG AS INTERESTS OF INTERNATIONAL CAPITAL AND WALL STREET MONEY BROKERS ARE SERVED. ONCE UPON A TIME, A HEALTHY SECURITIES MARKET MEANT AMERICAN LABOR WAS DOING WELL — BUT THOSE GOOD OLD DAYS ARE GONE.
ABANDONMENT OF NATIONAL TRADE PROTECTIONISM EFFECTIVELY OPENED A HUGE BREACH IN THE GREAT RESERVOIR KNOWN AS THE NATIONAL ECONOMY. NATIONAL WEALTH FLOWS OUT LIKE WATER BEING RELEASED FROM A DISINTEGRATING DAM.
OUR POLICY MAKERS ARE NO LONGER CONCERNED WITH THE NATIONAL ECONOMY THAT PROVIDED AMERICA WITH THE GREATEST AND RICHEST ECONOMY IN THE WORLD, AND THE HIGHEST, MOST BROAD-BASED, LIVING STANDARDS THE WORLD HAD EVER KNOWN. THEY ARE CONCERNED WITH THE "GLOBAL ECONOMY" — THAT'S THE ONE THAT AWARDS THE JOBS TO THE CHEAPEST AVAILABLE LABOR IN THE INTERNATIONAL LABOR POOL, AND PROVIDES THE LARGEST POSSIBLE REWARDS TO THE SELECT FEW CORPORATE BENEFACTORS.
CHINA IS GROWING UP INTO THE NEXT SUPERPOWER COMPLIMENTS OF AMERICAN CONSUMERS. IN THE FULLNESS OF TIME, THE COSTS (TO US), WILL BECOME SELF-EVIDENT. SOONER OR LATER CHINA WILL MOVE ON TAIWAN, AND IF WE OBJECT, WAL-MART AND THE ENTIRE AMERICAN ECONOMY WILL CRASH. ONE POSSIBLE SCENARIO WOULD BE THAT THEY WOULD MAKE THEIR MOVE ON TAIWAN ONCE WE'VE FINALLY MANAGED TO GET OURSELVES TOTALLY BOGGED DOWN IN THE MIDDLE EAST.
THE PREMISE THAT CHINA NEEDS US AS MUCH AS WE NOW NEED THEM IS A FALSE ONE AND AN EXTRAORDINARILY DANGEROUS DELUSION. WHAT WOULD HAPPEN IF CHINA TOOK A LESSON FROM ABRAHAM LINCOLN AND HENRY FORD? WHAT WOULD HAPPEN IF CHINESE WORKERS WERE GIVEN THE WHEREWITHAL TO BECOME THE PRIMARY CONSUMERS OF CHINESE PRODUCTION OF CONSUMER GOODS? IF TRADE WITH THE UNITED STATES IS EVER CUT OFF DUE TO WAR, THAT COULD HAPPEN. AND IT WOULD BE WAL-MART'S, AND GLOBALISTS', WORST NIGHTMARE. AMERICA WOULD BE FORCED TO REINDUSTRIALIZE, AND ONCE AGAIN PROVIDE FOR ITSELF AND PROTECT ITS OWN!
THERE'S ONE THING THAT IS FAIRLY CERTAIN, AND THAT IS THAT CHINA WILL NEVER ALLOW HERSELF TO BECOME A SIGNIFICANT MARKET FOR AMERICAN PRODUCTION, AS OUR ECONOMISTS AND POLITICIANS LIKE TO IMAGINE. TO DO SO WOULD BE TOTALLY ABSURD AND SUICIDAL, AND DEADLY TO CHINESE NATIONAL SECURITY INTERESTS.
CHINA, LIKE THE UNITED STATES, IS PERFECTLY CAPABLE OF BECOMING A TOTALLY SELF-SUFFICIENT NATION IN EVERY MAJOR ECONOMIC REALM. THEY HAVE THE NATURAL RESOURCES TO PROVIDE FOR THEMSELVES, AND THANKS TO OUR SHORT-SIGHTED POLITICIANS AND ECONOMISTS, THEY HAVE BECOME AN INDUSTRIAL POWERHOUSE, CAPABLE OF PROVIDING EVERYTHING THEIR VAST DOMESTIC MARKETS WILL EVER NEED. NEEDLESS TO SAY, THEIR GROWING MILITARY-INDUSTRIAL COMPLEX WILL EVENTUALLY BE SECOND TO NONE, AND ALL OF EAST ASIA WILL BECOME THEIR ECONOMIC DOMAIN, PROVIDING THEM WITH ANY RESOURCES THEY MAY LACK WITHIN THEIR OWN BORDERS.
---