THE BATTLE OF CAMDEN
THE ONLY CIVIL WAR ACTION FOUGHT IN JOHNSON COUNTY, ILLINOIS
By William R. Carr
My father was about eight years old when he overheard a conversation between his grandmother, Tranquoline (Wright) Gurley, and a visitor named Frank Lawrence. Frank and my grandfather, Green Gurley, worked together at the Harrisburg railroad yard and Frank was paying a social visit.
The dialog that stuck in my father's mind was when his grandmother asked Lawrence, "Did you know that one of my aunts shot one of you Lawrences?"
"Yes, I sure do." Frank had replied, "And he got just what was coming to him."
That's all my father remembers of the conversation. He learned, however, that the aunt who had done the shooting was his great aunt "Babe," and the man she shot was a Union Cavalry officer. The account of the shooting he received from his grandmother was pretty sketchy. Back in 1920, Southern Illinois families whose relatives were associated with the wrong side during the Civil War were usually inclined to let the matter rest. Such things were considered best forgotten.
What great grandmother Gurley had been referring to was "The Battle of Camden," a Civil War incident which had occurred near New Burnside, in Johnson County, Illinois in March of 1862. Her Aunt Babe, then only about fifteen years old, was credited with saving her father's life by shooting Lieutenant Lemuel L. Lawrence, of Company B, 6th Illinois Cavalry regiment. He had led a detachment of his company to her home to arrest her father as a southern sympathizer. That's about all we knew of the incident for many years.
Aunt Babe's actual name was Sarah Elizabeth Camden, the daughter of Marble and Sally Camden of New Burnside. Born near Nashville in 1845 or 1846, she was their eighth and last child—the baby of the family, thus the nickname "Babe."
In the years prior to World War Two, a Camden-Hancock family reunion was held annually at the old Stonefort Reunion grounds at Stonefort, Illinois. The secretary of the reunion was Mrs. Leona Isabel Turner. In 1939 Mrs. Turner produced a genealogical history of the Family of Camden for all family members attending, but satisfying details of the Battle of Camden were not forthcoming. Of aunt Babe, Mrs. Turner wrote:
Aunt Babe is remembered by many old pioneers of our community for her courage in firing the deciding shot in the famous fight. Aunt Babe was known to the writer personally and I have often spent a night in her home as a child. She was tall and large without a bit of fat. She had heavy black brows, black hair and a wide forehead. She had the strength of character typical of her family... She led a life of hard work and raised her family alone, a thing few women of her day would have had the courage to do... She lived on a farm near Uncle Chris (near New Burnside - wrc) for a long while, then moved to Pope Co. where she lived on the farm with her children until she moved to Cairo and lived there ten years until her death in 1909...
When the author can get authentic information the story of the Camden-Lawrence fight will be printed, but as one of our Camdens married one of the nephews of the said Lawrence, we have their version of the story also and the difference is truly laughable, as the daughters said, "What fights my mother and father could have had if they'd let the old stories of their kinfolks come up for discussion." But everyone knows that Aunt Babe's part in it ended the fight and probably saved her father's life. For a fourteen* year old girl, she showed a real pioneer spirit and the thing that makes our family, the willingness to fight for it against all odds...
Further details of the famous fight were long in coming. The family reunions were interrupted by World War Two and never resumed. Since the war, most of the Camdens have departed the area, and few of the Camden name remain in the Southern Illinois region.
It was several decades later, when local historian, Ned Cross, then owner of what had been Marble Camden's farm, wrote of the incident in his 1978 book The Biggest Little City in Little Egypt (A History of New Burnside), that we learned a little more about the "Battle of Camden," but only a little. The story had come down to Mr. Cross through his own family. His great grandfather, William R. Mounce, had been a member of the Union 6th Cavalry detachment involved in the skirmish. But the account of the Battle given in Mr. Cross's book left many questions unanswered.
The story was finally fleshed out considerably by Gary Tanner, a nephew of Ned Cross, in the June 1997 issue of the Johnson County Heritage Journal, (Volume 1, Number 6), published by the Johnson County Genealogical and Historical Society. Mr. Tanner's contributions included excerpts from two letters concerning the fight written in 1980 by Ruth Lee Lawrence Hutchinson, a great-granddaughter of both Marble Camden and Frank Lawrence (Lemuel's brother)—both protagonists in the incident, on opposite sides. Most importantly, Mrs. Hutchinson had provided Mr. Tanner with the text of a 1894 deposition in the case of Lemuel L. Lawrence, with Sarah E. Tidwell (Aunt Babe), as deponent. With that deposition we finally have Aunt Babe's full account of the incident. Depositions of the other living participants are mentioned, but were not included, but Mrs. Hutchinson says they all agreed in all main points with Aunt Babe's account. It is this source, along with Mrs. Turner's genealogy, and other biographical and genealogical information, that I have based the following account. I must also thank Steve Lawrence, one of Lemuel's grand-nephews, for sharing his Lawrence genealogical information with me. Additionally, I have been able to obtain copies of the documents contained in Lt. Lawrence's military service file, which shed some light on Lemuel's side of the story.
---
THE SOUTHERN ROOTS OF THE CAMDEN AND LAWRENCE FAMILIES
"Marble, our pioneer great grandfather, was six feet three inches tall and had a fist that could 'fell an ox'. He was stern and yet kindhearted, as the hardships of those early days produced such men. Fighting, poverty, stony ground, living outdoor lives, seeking new country, building homes, rearing large families, left little time for polished manners and soft speaking, yet there was pride and truth, manliness and uprightness, love of justice and independence naturally inbred in his children." (Leona Turner, in her 1939 Camden family history)
Marble McPatrick Peter Henry Camden was born at Richmond, Virginia about 1802, the thirteenth child of Benjamin and Elizabeth (Wright) Camden. The Camdens, or at least some of them, seem to have been rather prosperous Virginia planters. Marble's uncle, William Camden, who died in Amherst County, Virginia in 1813, left a will in which he disposed of considerable estate, including thirteen slaves. We know little of Marble's father's circumstances, except that he wasn't doing nearly as well as his brother a few years later. He must have come onto hard times some time before 1827, for in March of that year he was jailed for debts and had to turn all his property over to the Sheriff to sell in order to satisfy them. The following June, Marble's elder brother, Benjamin Jr., had to help secure his father's debts with a deed of trust against some horses. Benjamin Senior died soon thereafter leaving little, if anything, to his large family. With hard times hitting his family, Marble found his financial prospects at home much less than promising. Too proud to work for wages near home, he headed south into the Carolinas to seek his fortune, some time before 1827.
According to Leona Turner's Camden family history, Marble had a distaste for the institution of slavery, but nonetheless accepted work as a plantation overseer. Rather than being the cruel overseer doing the distasteful work for a kind or indifferent master (which is the usual stereotype), his reputation was of taking the part of the slaves to mitigate the master's harsh discipline. He did not remain at the calling very long. Determined to make a new life for himself on fresh ground, Marble decided to move west. When he left his employment the slaves were sorry to see him go, lamenting, (according to Mrs. Turner), "Who will befriend us now when you are gone?"
Marble probably met his bride to be while engaged as an overseer. It's possible that the acquaintance had something to do with his decision to go to Tennessee. More likely, they were influenced by others of Marble's family who were moving to Tennessee about this same time, perhaps as the result of the humiliation of having lost the family estate. In any case, Marble and Sallie L. Hopkins were married in a covered ox-wagon in 1827, during their move westward. They settled near Nashville. This writer knows nothing of their life there, except that it was the birthplace of their eight children.
In 1848, after twenty years in Tennessee, Marble and Sally packed up and moved west with their children, settling finally in Johnson County, Illinois. On August 21st, 1851, Marble patented forty acres of land about a half a mile east of what later became the town of New Burnside, near the banks of what became known as Camden Creek (now designated the Little Saline River).
When the Camdens arrived in Illinois with their children, the eldest, Shelton W., "Shelt," was nineteen, and the youngest, Sarah Elizabeth, "Babe," was a mere infant. The other boys were William M.; Christopher Columbus, "Chris"; Marbel McDowell "Mack"; Benjamin T.; and George W. There was one other daughter, Olivia Frances, "Leave," the present writer's great, great-grandmother.
By 1855, seven years after their arrival, three of Marble's sons had acquired farms of their own. His second son, William, had patented 80 acres nearby in January of 1853. His first son, Shelton, patented 280 acres in Pope County in 1854. His third son, Christopher, patented 80 acres adjoining his father in 1855. Shelton's properties, about four miles east of his father's farm, and a mile south of Stonefort (now Oldtown), straddled Camden Creek for a mile, and it was undoubtedly this ownership which gave the creek its original name.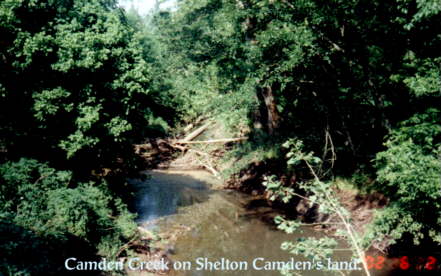 To wilderness again--the families who once cleared and worked the
land are now long gone, but not quite forgotten.

A little over three miles to the south of the Camdens, just east of the settlement of Reynoldsburg, lived another family which had migrated from Virginia and Carolina. This was the family of Henry G. Lawrence (alternately spelled Laurence in some sources), whose westward migration had paralleled that of the Camdens. His intermediate residence had been in Kentucky, where all of his children had been born. Henry had been born about 1807 in Virginia and moved at an early age with his parents to Kentucky. He and Sally Baucom (of Wake County, North Carolina), were married in 1825 in Butler County, Kentucky. They moved to Graves County about 1832, and Marshall County about 1845. Then, after the birth of their last child, Judith, in July of 1850, they moved to Illinois, settling in Johnson County.
Of Henry and Sally's sons, we know of Thomas Newton; William Marshall; Grandison Catlette; Benjamin Franklin, "Frank"; Lemuel Lee "Lem"; Henry Harrison; and Stephen Clay. The daughters were Elizabeth Susan; Sarah Abigail; and Judith Stanley.
Henry patented his first forty acres of Illinois land on April 16th, 1851, and between that year and 1854 his land holdings increased to 320 adjoining acres. (See Lawrence family of Southern Illinois)
MAP SHOWING CAMDEN AND LAWRENCE FARMS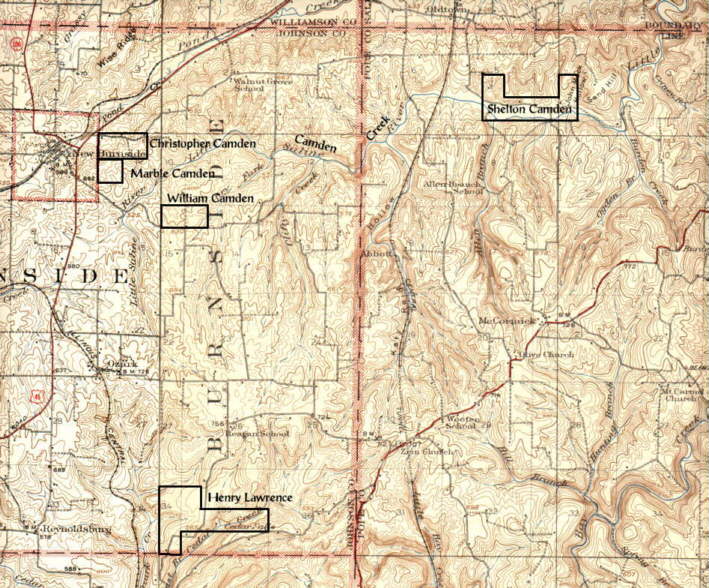 The Camden and Lawrence farms in 1862. Marble Camden's 40 Acres (upper left, just east of the village
of New Burnside), was the site of the Battle of Camden.
---
SEEDS OF CONFLICT

Abraham Lincoln was elected president in 1860 and what had been a growing regional division flared into the open secession of southern states, and war loomed on the horizon. The Confederate States of America were formed the following February, and Fort Sumter was fired upon on April 12th, 1861, initiating the long fomenting Civil War. Lincoln, determined to preserve the Union, called for 75,000 volunteers.
As these events unfolded, increasingly bitter divisions manifested themselves among the residents of Southern Illinois and other border states. Many Illinoisans of southern extraction favored the southern cause, and some were eager for Egypt, as Southern Illinois was called, to secede and join the Confederacy. Cooler heads were simply against going to war with the kindred peoples of the south. They simply wanted no part of a fight against their own kinsmen, and hoped war could be averted.
Egypt's conflicts and wavering loyalties were well encapsulated in the early career of John A. Logan, the region's popular Democrat congressman. He consistently argued for compromise, believing that the use of coercive force against the southern states was unconstitutional. At the same time, he also believed secession both undesirable and unlawful. He considered the election of Lincoln a calamity, and railed both against "abolitionist Black Republicans" and southern "fire-eaters."
"The election of Mr. Lincoln, deplorable as it may be," Logan said, "affords no justification or excuse for overthrowing the republic." Yet he would have much preferred to let the southern states go peacefully than wage a fratricidal war against them. "They are our kinsmen," he proclaimed, "and should be dealt with kindly."
As James Pickett Jones wrote in Black Jack, John A. Logan and Southern Illinois in the Civil War: "Egypt, an area divided socially, culturally, and emotionally, stood with one foot in each camp. While there were no slaves in the triangle, it was in every other way as much a border area as Missouri and Kentucky."
In January of 1861, the Democratic party of Illinois proclaimed its loyalty to the Union, while still opposing force as a weapon against secession. Downstate Illinois Democrats remained much more divided, however. Prior to Logan's own declaration of support for the Union (unequivocally articulated on June 18th), many Southern Illinoisans were taking some serious anti-Union steps. The Salem, Illinois, Advocate, on January 31st 1861, boldly spoke of the possible secession of Southern Illinois.
During the Spring of 1861, stories of Egyptian disloyalty were rife. The St. Louis Missouri Republican, April 20, 1861, reported that some 50,000 Illinoisans were "opposed to this inhuman, revengeful Lincoln war." In May, Governor Richard Yates, of Illinois, received letters concerning widespread secessionist conspiracies in Southern Illinois. Franklin County was said to be two thirds rebel, lacking only a leader to declare for the Confederacy. Other Southern Illinois counties were no less implicated.
A group of Pope County citizens endorsed secession at a public meeting. On April 15th, a large group of citizens in Marion gathered to protest Lincoln's call for troops and called for pro-secessionist resolutions. Logan's own father-in-law, John M. Cunningham, was among those appointed to the committee at the meeting at the court house called by James D. Manier. The crowd loudly accepted the pre-prepared resolutions read by the committee. They traced the current troubles to Lincoln's election and declared the feeling that the border states would be driven from the Union. "In that event," it was declared, "the interest of the citizens of southern Illinois imperatively demands a division of the State. We heartily pledge ourselves to use all means in our power to effect the same and attach ourselves to the Southern Confederacy." They called for the independence of the Confederacy and refused to bear arms against it.
The very next day, however, alarmed at the possibility of Union Army occupation, another group of citizens gathered in Marion to repeal the resolutions. A. T. Benson was appointed to rush to the federal garrison at Cairo with evidence of the repeal of the secessionist resolutions. General Prentiss, who was in command of the federal troops there, was reading a copy of the resolutions of secession when Benson arrived. When Benson presented the general with the resolution of repeal, the general said, "I'm glad to see them. The resolutions of secession would have caused your folks trouble, but now I hope all will be right."
Nonetheless, word reached Cairo that Egyptian rebels planned to destroy the Illinois Central Railroad bridge that crossed the Big Muddy River, and General Prentiss sent a company of federal soldiers to guard it. They were provided with two field pieces to defend the bridge. The group of locals who planned the bridge destruction had gathered under the command of Thorndike Brooks and Harvey Hayes, two ardent secessionists. Finding the bridge well defended, however, they called off the planned operation.
Brooks and Hayes recruited the only organized group of Southern Illinois citizens to join the Confederacy. In spite of considerable recruiting efforts and wide-spread support, only thirty-five men turned up at the appointed assembly point at the Delaware Crossing of the Saline River a few miles south of Marion (24th of May, 1861). The next day they marched south toward Paducah, Kentucky, and eventually joined up with the 15th Tennessee Infantry at Mayfield. John A. Logan's brother-in-law, Hibert Cunningham, was a member of the rebel company. Logan's political enemies accused him of aiding and abetting this effort, a charge which he strongly denied.
Governor Yates did receive some encouraging indications of Egyptian loyalty. John Olney, of Shawneetown, wrote to him on April 15th, stating his belief that Southern Illinois generally supported preservation of the Union. Olney himself enlisted in the army on May 30th as Quartermaster of the 18th Illinois Infantry, over three months before Logan declared for the Union. He was soon promoted to First Lieutenant, then Lt. Colonel on January 7th, 1862, and later assigned to the 6th Cavalry headquarters in Paducah, Kentucky. In this capacity he later played a significant role in squashing the Camden rebellion which is the subject of this article.
Although Logan ultimately joined the fight for the Union, he had nonetheless voted until the very last to stop the carnage. He clearly saw that war fever had gripped the nation's capital and war had become unavoidable. As always happens when the drums of war take hold, a sort of reign of terror had already begun to evolve, wherein all opposition to a chosen course of action was vigorously shouted down. Logan's law partner, W. H. Green, tried to dissuade his partner from joining the Union cause. In Black Jack, author James P. Jones refers to Green as a "rabid anti-war Democrat"—as if it were not those promoting war who were most "rabid." To be for peace was considered the radical position, tantamount to disloyalty to the nation. Freedom of speech became a casualty of the war, especially in the nation's capital. "A man cannot express sentiments against the war without being scoffed and hissed," Logan complained.
In fact, Logan probably would have led Southern Illinois into the Confederacy had there been enough popular support for it, and he probably did encourage the pro-secessionists prior to his own "conversion" (though such an idea is sacrilege to many today). But Logan, after a period of careful assessment, during which he had remained rather silent, finally saw what John Olney had seen—that the majority of the population of Egypt favored preservation of the Union. He acted accordingly, leaving his erstwhile secessionist followers (including his wife's family), who fully expected him to lead Southern Illinois into the Confederacy, in the lurch. With Logan's declaration for the Union, all open efforts to organize for the Confederacy seems to have crumbled.
Though Logan had approached president Lincoln in April, and been promised a commission (two months before publicly acknowledging support for the Union in his own congressional district), it wasn't until August 7th that Gen. McClernand received official notice that Logan was to command a regiment, and August 11th when Governor Yates tendered him a colonelcy. Though Logan had been an outspoken Lincoln opponent, the president had been particularly eager to extend him a commission in the correct belief that he could be very valuable in swaying wavering Illinois Democrats toward support for his war effort.
With the understanding that the fight was to preserve the Union rather than free the slaves or punish the seceding states, Logan threw his full support behind Lincoln's war goals. While the predominate political forces of Southern Illinois went with Logan and the Union, and Egypt ultimately answered the call, the deep-seeded divisions among the people continued. This, of course, led to widespread distrust, often dividing families, and pitting prewar friend against friend.
It was an embarrassment to Logan to find his wife's family committed to the Southern cause—most especially, since he had been named as their primary inspiration. He actually later found himself in battle with his own brother-in-law in the opposing army. These peculiar family divisions were not rare. President Lincoln found himself in a similar situation with his own wife and her family. Mary Todd Lincoln's family (according to David Wallechinsky and Irving Wallace, in their The People's Almanac), far outdid that of Logan's wife. She had a brother, three half-brothers, and three brothers-in-law in Confederate uniform, and (much to Lincoln's chagrin), was herself even accused of being a Confederate spy.
The Camden and Lawrence families found themselves on opposite sides of the sectional divide. Both were of southern origin, but it appears the Lawrences had been Lincoln Republicans from the beginning. Marble Camden was undoubtedly a "peace Democrat," and continued to be outspoken opponent of Lincoln's policies. His lack of patriotic zeal for the Union rankled with some members of the Lawrence family—most notably, the overzealous and apparently hot-headed, Lemuel Lee Lawrence.
How the elder Camdens and Lawrences got on as neighbors in years previous to the war is not known. They had come to Illinois at about the same time and had lived near one another for a decade before the war. (Henry, the elder Lawrence, died on March 14th, of 1861). Bad blood is known to arisen, however, between the Lawrence and Camden boys some time prior to the war. Marble's daughter, Sarah Elizabeth, later stated, "...they were young men together, my bothers Chris and Mack Camden ...my brother Mack and the Lawrence boys had a falling out before the War..." Whether this earlier falling out among young neighbors had been related to politics and the gathering winds of war is not known, but obviously Lemuel came to hold a serious grudge against the Camdens which the war brought to a head.
When Logan began raising a Union rather than a Confederate regiment, many of his supporters felt betrayed. Others quickly came to his point of view. "The Union must be preserved, join the army and save the nation," Logan appealed in his recruitment speeches in the Summer of 1861. Many erstwhile southern sympathizers answered the call and joined Logan's regiment. This included Marble Camden's eldest son, Shelton.
The Camdens had undoubtedly held John A. Logan in high esteem for some time. Shelton had shown his admiration for the congressman by naming his first son, born in 1858, John A. Logan Camden. Obviously, he had not felt betrayed by Logan's apparent change of stripes, for he enlisted in Logan's 31st Regiment on September 18th, 1861—the very day the regiment was formed, preempting even many zealous Union supporters.
Chances are the elder Camden was not as much in agreement with Logan's new direction as his son, and Marble probably wasn't all that pleased when his eldest child rallied to the Union banner. It is likely that he held more firmly to Logan's earlier positions and continued critical of Lincoln's war policy. Secession of the southern states seemed perfectly reasonable, though not necessarily the best course of action. Like many others, he probably felt the right of self-determination, even to the point of secession, was among the inherent rights and powers of all sovereign peoples and States. After all, that was what the Revolutionary War had been all about. The Declaration of Independence had clearly proclaimed the right of self-determination, and the Constitution of the United States certainly had not abolished that right, in spite of the contrary spin popularized by Lincoln's followers. Even Logan had made the analogy—equating Lincoln and the Republicans with King George, and the South with the oppressed American colonies. As far as the slavery issue was concerned, that was certainly a matter to be addressed by means other than a bloody fratricidal war.
Though hardly any less southern in heritage, the Lawrences were apparently much less attached to their southern roots than the Camdens. Henry Lawrence had been a small child when his family moved to Kentucky, so he had few memories of Virginia, and, unlike Tennessee, Kentucky itself did not secede from the Union. Like most other Republicans, their hero was Abraham Lincoln rather than John A. Logan. The fact that Logan had changed direction undoubtedly didn't endear him to them in any way. Like many others, they considered Logan's change of spots nothing short of political opportunism. As for those copperheads harping on "freedom," the slavery issue was easily thrown in as a convenient argument. How could one fight for freedom when it meant the right to hold fellow humans in slavery?
A William Lawrence, of Johnson County, enlisted in John A. Logan's 31st Regiment, Company F, on the same day as Shelton Camden. He was killed less than two months later in their first action at Belmont, Missouri, on November 7th, 1861 (the battle in which Logan and his brother-in-law fought on opposite sides). This William was not Henry's son, but was probably closely related. Henry's second son, of that name, apparently did not serve during the war, and lived until 1900.
The Henry Lawrence boys didn't sign up as quickly as Shelton Camden and William Lawrence, but this is probably because they didn't want to serve under John A. Logan. They waited another opportunity, which came in August.

James Bishop Morray was an adventurous and ambitious man who had become a prosperous landowner and timber speculator in Williamson and Johnson counties. He had purchased a considerable amount of timberland in Johnson County and owned and operated a steam sawmill not far from the Lawrence farm. He and Henry Lawrence had become acquainted in 1857, and soon became partners in the timber and sawmill business.


One result of this association was that Henry's son, Benjamin Franklin, "Frank," had gone to work operating the sawmill as sawyer and engineer. Another was that Frank married James' fourteen year old daughter, Amanda Elizabeth Morray, later that same year, on December 20th, 1857.


A decade before, in 1847, James had enlisted in the army as a private, in hopes of fighting in the Mexican War. Unfortunately, he became ill shortly after his enlistment and the war was over before he recovered. But when the Civil War started, he figured he saw opportunity knocking.


Robert Garret, Frank Lawrence's great-grandson, and author of Morray's biography, James Bishop Morray of Southern Illinois, states:
"To James Morray, ever ready for adventure, this was an opportunity he had been waiting for. In late August, 1861 he called a meeting, inviting all eligible men in the neighborhood to a barbecue at a place on his property known as Morray's Spring, a parklike area next to the sawmill. He spoke earnestly to the assembled men, then called upon others who shared his views – neighbors J. B. Fite, James' son-in-law Frank Lawrence and Frank's brother Lemuel, among them.

"At the conclusion of the speeches, 86 men, 57 of them from Johnson County, signed up for service. With other enlistees who came later, a total of 140 men eventually served in what became Company 'B', Sixth Illinois Cavalry. Following the usual custom, the men then elected their officers: James Morray, Captain, J. F. Fite and Lemuel Lawrence, Lieutenants, Joshua Ramey, Orderly. Frank Lawrence was selected as First Sergeant and H. H. Wise and William Mounts, Sergeants."
September 10th, 1861 is given in another source as the official enlistment date for Lemuel, Frank, and Thomas, and when "Captain J. B. Morray got a regiment together at Cross Roads" (near Reynoldsburg, only two miles west of the Lawrence farm and perhaps also on Morray's property, if not Morray's Spring).


On November 17th, Lemuel officially received a commission as second lieutenant. Frank had enlisted as a First Sergeant and Thomas as private.
The rest of the Camden boys weren't so quick to enlist, and this probably tended to confirm Lemuel's opinion that the Camdens, with the possible exception of Shelton, continued to be southern sympathizers, or "Copperheads."
---
KNIGHTS OF THE GOLDEN CIRCLE
Lemuel Lawrence seems to have accused Marble Camden of being not only a Copperhead, but a member of the Knights of the Golden Circle. The term "Copperhead" (supposedly first used as a pejorative term for Southern sympathizers by the New York Tribune on July 20, 1861), has a rather sinister sound, implying a dangerous and silent enemy that strikes without warning. Yet the Copperheads were initially anything but advocates or partisans of war. In fact they were more widely known as "Peace Democrats." They were considered "disloyal," not because they were bent upon treason, but because they opposed Lincoln's war on seceding Confederate states, and tended to be obstructionists to that war policy.
The Knights of the Golden Circle, organized by Copperheads in 1862, was not an underworld organization of militant traitors bent on being disloyal to the nation as many have come to believe. They were mainly peace advocates. Their supposed subversive threat to the Union was grossly overstated during the war, and the stigma of alleged treason has continued to the present day. The Knights of the Golden Circle successively became the Order of American Knights and the Sons of Liberty. Not all Copperheads were from border states. According to the Encyclopaedia Britannica, (1996 CD version):
"Nearly all Copperheads were Democrats, but most Northern Democrats were not Copperheads. Copperhead strength was mainly in the Midwest (Ohio, Indiana, and Illinois), where many families had Southern roots and where agrarian interests fostered resentment of the growing dominance of industrialists in the Republican Party and federal government.
"In addition, groups opposed to conscription and emancipation--e.g., the Irish population in New York City, who feared that freed Southern blacks would come north and take jobs away--backed such Peace Democrat leaders as Horatio Seymour, Fernando Wood, and Clement L. Vallandigham. Copperheads also drew strength from the ranks of those who objected to Lincoln's abrogation of civil liberties and those who simply wanted an end to the massive bloodshed.
"Although Republicans accused these groups of treasonable activities, there is little evidence to support the accusation. Most Copperheads were more interested in maintaining the existence of the Democratic Party and defeating Republican opponents for public office than they were in participating in any disloyal activities.
"On the other hand, Copperheads were able to block important war legislation in the Indiana state government, and they controlled the lower house in Illinois for a time. Seymour was elected governor of New York in 1862, and Vallandigham ran (unsuccessfully) for governor of Ohio in 1863. At the 1864 Democratic national convention, Copperheads gained control of the party platform and inserted a plank calling the war a failure and advocating immediate peace negotiations. Party presidential candidate George McClellan repudiated the Copperhead peace plank, however. By the end of the war, the terms Democrat and Copperhead had become virtually synonymous throughout much of the North. As a result, even though the Copperheads failed to exercise any significant influence on the conduct or outcome of the war and even though most Northern Democrats supported Lincoln and the war effort, the Democratic Party carried the stigma of disloyalty for decades after Appomattox."
Marble Camden was almost certainly a "Peace Democrat," and he was probably rather outspoken in his opposition to the war. It is almost equally certain that he was never an official member of the Knights of the Golden Circle (if there ever was anything like an "official" membership in the organization). Even if he had been, it would not have been all that incriminating—except in terms of the kind of war hysteria that always infects a nation during wartime. Yet it is probable that Southern sympathizers in Southern Illinois and elsewhere did lend some aid and comfort to the enemy. Those enemies, more often than not, were friends and family. It is likely that some sheltered Union, and possibly Confederate, deserters. Whether Marble was guilty of anything other than being a peace advocate, no one can say for sure. However, that he was a sharp burr under the saddle of Union cavalryman Lt. Lemuel Lawrence can be of little doubt.
Several suspected members of the Golden Circle were arrested in Southern Illinois and first taken to Cairo, and later to Washington, where they were held in the old Capital prison. They were charged as members and accused of making rebel speeches, but all were soon released without trial.
---
THE BATTLE OF CAMDEN
Only two days after Lemuel Lawrence received his commission, the 6th Cavalry Regiment was organized at Camp Butler, near Springfield, Illinois, and the three Lawrence brothers were assigned to Company B. Less than a week later, on November 25, the regiment was moved to Shawneetown, where it remained until February of 1862. In that month it was ordered to move to Paducah, Kentucky, which was by then firmly in Union hands. The march south to Paducah took Lemuel and his brothers conveniently close to their home where they apparently had leave to stop and visit for a few days before rejoining the regiment.
Lemuel was on more than a leave to visit friends and family. He was on a patriotic mission, mixing business with pleasure. He seems to have taken it into his mind to correct a few southern sympathizers in the neighborhood. His second lieutenant commission and cavalry uniform, he believed, gave him the authority to work his will with those he suspected of being rebels. Why not do the Union a favor and maybe gain some favor with the loyal residents of the community? He intended to step on a few copperheads and force them to take the oath of allegiance to the Union. This, in his mind, was undoubtedly a very patriotic thing to do.
According to Lt. Lawrence, he was under verbal orders issued by his superior, Captain J. B. Morray, "...to take with him certain other enlisted men of said company and pursue and bring back to said company a certain member of his company who had deserted from said company while stationed at Shawneetown Illinois and also to arrest a certain rebel residing in Johnson County..." These alleged orders were issued on or about 1 March, 1862. (See transcript of L. L. Lawrence petition)
One of his intended converts was Marble Camden (presumably the rebel Lemuel referred to in his petition letter quoted above), a man who demonstrated a great lack of patriotic zeal for the Union, and who Lemuel suspected of being a member, if not a ring-leader, of the Knights of the Golden Circle. To quote Ruth Hutchinson's letters, "The fact of the matter is that before and during the war the families of both sides—the northern and southern sympathizers had a lot of eyeball-to-eyeball confrontations, and it is also a fact that the Camden brothers and the Lawrence brothers had trouble. So when the war came along, it gave Uncle Lem the chance he was after. At least, that is my feeling about the matter. Also, a uniform gives some men a great feeling of power and importance that he does not deserve—and Uncle Lem went far beyond the call of duty..." And, "...as you can imagine, they had both drank some 'Dutch courage' before setting out."

Spring usually comes early in Southern Illinois, and spring is a time of renewal and hope. But the winter of 1861-62 had been more depressing than most, and spring promised to be almost as depressing as winter had been. Blood was being spilled in ever-increasing amounts, as the war of secession was approaching its first full birthday—and there was no end was in sight.
It was on or about the 7th of March, 1862, when William (Billy) Camden rode up to his father's house with the warning of Lemuel's mission. A neighbor woman had told him that Lem Lawrence had been boasting that he was going to come up and make Marble Camden swear allegiance to the Union. She'd heard it from Doc Josiah Whitnell, who said the Lawrences were coming to make Marble "get down on his knees and take the oath."
The Camdens had learned that the Lawrence boys were back, and that they'd already called on and beaten a Mr. Fortner, one of their neighbors, because they didn't like his politics. Fortner had been pistol whipped, and quite badly injured. Marble Camden was apparently next on their list.
Marble's household at that time consisted of himself and his wife Sally; their son, Mack, and his wife and child; and their youngest child, Sarah Elizabeth (Babe), then fourteen years of age.* A younger son, George, also lived with them, but wasn't at home at the time, leaving Marble and Mack as the only men in the house. William Camden, who lived on his nearby farm with his wife and children, probably stayed with his parents for the rest of the day to bolster their number. Marble made sure his guns were loaded and capped. Their armory consisted of a double-barreled shotgun, a rifle, and a single barrel pistol. The Lawrences didn't show up that evening as expected, and Billy probably returned to his own family late that night.
A neighbor by the name of Thornton visited the Camdens the following morning, and while he was there half a dozen riders approached. Seeing the approach of uniformed men, and knowing this was the trouble they'd been expecting, Marble grabbed his shotgun and hastened out the back door in hopes of escaping the promised beating.
The cavalry detachment included Lieutenant Lemuel Lawrence, his brother, Sergeant Frank Lawrence; William R. Mounce; Babe Sullins; and Henry Bratlow. Another who may have been present would be Edward F. Wooten, also a member to the 6th Illinois Cavalry, who was married to one of the Lawrence brothers (Thomas Newton Lawrence). The soldiers drew up in front of the house and the Lawrences dismounted. Mack went out onto the front porch to greet the visitors.
"How are you, Mack?" Lemuel inquired.
"How are you, Lem?" Mack responded.
That was about all the small talk that transpired according to Elizabeth. Apparently Lemuel had caught a glimpse of Marble going out the back door through the open front door, or saw him running for the trees. After the curt pleasantry, and without any further explanation of his purpose, Lemuel ran around the house, drawing his revolver as he went, intent on bringing old man Camden to heel.
When Lemuel got around to the back of the house, he saw Marble attempting to get away. Without a word, he fired at his fleeing neighbor. The bullet struck Marble in the hand.
Now, probably angrier than he was scared, Marble raised his shotgun and let go at his assailant. The buckshot tore into the Lemuel's right arm. This must have given Lemuel considerable pause, and he retreated toward the back door of the house to seek shelter. He must have been thinking that maybe he'd bit off more than he'd intended, as it is unlikely that he had expected a fight.
Upon seeing Lawrence draw his revolver and run around the house after his father, Mack had ducked into the house and took his father's rifle from the wall. Then the shots were heard—first the revolver shot, followed by the shotgun blast. Fearing the worst, Mack went out the back door intent on defending his father. His young sister was right behind him. Rather than staying in the house with her mother and Mr. Thornton, who were viewing the proceedings with much alarm, she'd grabbed her father's pistol.
When Mack went out the back door, he almost ran into Lemuel, who raised his pistol with difficulty and fired at Mack at almost point-blank range. The bullet hit Mack in the stomach. Thinking himself mortally wounded, Mack panicked. Without firing, he threw his rifle down and ran for the smokehouse, some distance behind the house. Lawrence advanced a few paces after Mack, painfully drawing a bead on the retreating figure. Elizabeth, seeing Lemuel preparing to shoot her brother again, raised her pistol and fired, hitting Lemuel in the back.
Lemuel went down. "I'm a dead man," he declared. He yelled to his men to, "Come around here boys!"
Elizabeth could scarcely believe what had occurred and what she had done. It was all like a bad dream, and now she fully expected Lawence's men to finish her and her family off. But that didn't happen. Frank and the other men came around the house and viewed the scene. Apparently they didn't perceive the Camdens as a continuing threat to their safety, for no other shots were fired. They gathered up their fallen commander and departed the Camden premises with as much dispatch as could be mustered under the circumstances.
Ordinarily soldiers under orders are quick to return fire when they are fired upon by an enemy, and Lt. Lawrence's men undoubtedly could have easily prevailed against the Camden family. Two were wounded, and the other was a girl with a smoking, empty, gun. Presumably, the soldiers were well armed, but these men did not fire their weapons even when their commander was wounded at the hands of suspected rebels. Obviously there were cooler heads among the troops than that of their hot-headed commander. Apparently only lieutenant Lawrence had been intent on bringing Marble Camden to his knees by whatever means necessary.
There are two explanations as to why they did not wreak immediate vengeance, and both were probably factors in their forbearance. First, of course, is that they would be naturally hesitant to fire on or manhandle a young girl. Secondly, and probably more importantly, they undoubtedly knew that they and their lieutenant had exceeded his authority in visiting, much less attacking, the Camdens. Perhaps they felt they had little choice but to accompany their leader, since they were his subordinates, but the matter had quickly gone far beyond their expectations. Maybe they could take a little patriotic pleasure in roughing up a rebel—they might even help force a neighbor to get down on his knees and take the oath—but spilling their neighbors' blood was not much to their liking. They hadn't expected a fight, and when a fight resulted from their lieutenant's actions, knowing he was in the wrong, they wisely refused to participate further.
It is a credit to Frank Lawrence, as second in command, that he did not join in his brother's over zealousness and compound the tragedy. It was a miracle that nobody had been killed or more seriously wounded. Lt. Lemuel had sustained the most serious wounds. A few buckshot had disabled his right arm, and Elizabeth's pistol ball had entered one of his lungs. Though it was at first thought Mack had been shot through the stomach, the wound had not penetrated his abdominal cavity and proved to be superficial. Marble's hand wound certainly wasn't life threatening.
The Union army retreated, and the Battle of Camden was over.
* Family tradition and Ned Cross's book say Sarah Elizabeth was fourteen when the Battle of Camden took place in March of 1862, but Mrs. Turner's genealogy gives her birth year as 1845, with no month or day given, which would make her 17, or possibly 16 in 1862. Other Genealogical sources give the year as "about" 1846, and this is the year given on her tomb stone. However, Elizabeth herself states that she was 49 years old at the time of her 1894 deposition. Thus she was certainly no younger than 15 or 16, in March 1862.
---
REPERCUSSIONS
Having just engaged a detachment of Union cavalry in bloody battle, one can imagine the state of mind in the Camden family circle following the excitement. It remained to await the consequences of their bold stand. They had no idea what form those consequences might take. The nation was at war, and they had defied military authority, inflicting wounds on a Union officer. The possibility that Lemuel might yet die of his wounds must certainly have weighed heavily upon their troubled minds. The conversations around the fire in the evenings following the battle must have been fraught with foreboding and dire predictions. One can be fairly certain that they kept their guns loaded and capped, but chances are they planned to surrender as gracefully as possible when the army again arrived, as they knew it certainly would.
They had only a week to wait. Lieutenant Lawrence, upon learning that he wasn't quite dead, was able to cause a report of the incident to be sent to his superiors in Paducah. He let them know that the situation in northeast Johnson County, Illinois was dangerously out of hand, and that reinforcements were called for.
"They came from Paducah with near a regiment about a week after the shooting," Sarah Elizabeth recalled years later in her deposition, "Lawrence had sent word that there was a fort of rebels up here shooting Union men."
Lt. Colonel John Olney was the commander of the punitive expedition. He and his men, fully prepared to do battle with a fortified nest of rebel resistance, were surprised to find that the fort of rebels consisted of what appeared to be nothing more than a modest farmhouse occupied by a rather small family. Meeting no armed resistance, he and his men rounded up the rebels and took them to Paducah. There they were held for about a month.
Col. Olney's investigation of the Battle of Camden was apparently honest and fair. He found that Lieutenant Lawrence had acted on his own in the matter, without authorization of any kind, while "absent with leave."
Apparently Col. Olney felt more sympathy for the Camdens than for his own wayward men, and did not feel that Marble and his family were a threat to the Union. No charges were pressed and no trial called for, and the Camdens were finally released and allowed to return home.
Colonel Olney's acute annoyance at the Lawrence's actions was fully revealed when he told the Camdens (in Elizabeth's words), "...that it would have been alright if we had killed the last one of them."

AFTERMATH OF THE BATTLE
Lt. Lawrence's wounds were serious, and he was forced to resign his commission, which he did on May 7, 1862. He still thought he was about to die when he signed his resignation. He signed painfully, using his left hand, without thinking of the full ramifications of what he was signing. Apparently he had admitted in writing that his wound had occurred while he was "absent with leave" rather than on detached duty, as he later claimed. His over zealous patriotism caused him to have to sit out the war at home.
Local public opinion at the time was apparently somewhat sympathetic to the Camdens, and Lt. Lawrence found himself facing legal action. A grand jury was convened in Johnson County with Lemuel facing charges. However, it seems the Lawrence brothers managed to come to terms with Marble and Mack Camden and, through apologies, promises, or threats, and prevailed upon Marble not to appear against Lt. Lawrence in court. True to his word, Marble did not appear as a witness against his neighbor, and the case was thrown out. Unfortunately, Marble had been under bond to appear and, lacking cash money for the bond, had pledged his farm. As a result, his land was forfeited and later sold at auction to satisfy the bond.
Lemuel's brother, Frank, was apparently demoted from First Sergeant to private, perhaps as the result of his role in the Battle of Camden (or, as mentioned above, because he wasn't an engineer as Captain Morray had apparently claimed). He continued to serve as a private in the 6th Cavalry until he was discharged due to a disability on July 8th, 1864. Their brother, Thomas, who (though also a member of Company B, 6th Illinois Cavalry, had apparently not been at the Battle of Camden), had enlisted as a private and served throughout the war. He was promoted to Sergeant and discharged on November 5th, 1865.

Col. Olney, who had been assigned to 6th Cavalry headquarters in Paducah, and who had arrested and released the Camdens, was discharged on November 1st, 1862 for reasons unknown.
Though Marble Camden apparently continued under a cloud of suspicion of being a member of the Knights of the Golden Circle, it wasn't long until four more of his boys joined the army and went off to fight for the Union. Perhaps they did so to help remove the stain of suspicion under which the family continued to labor.
William, Mack, and George Camden all volunteered together on November 4th, 1862, and William and George served until the end of the war, their units being mustered out on July 9th, 1865. They remained together throughout. Initially part of the 128th Illinois Infantry, they were later reassigned to the 9th Illinois Infantry. My source did not reveal a muster out date for Mack. There was a discipline and desertion problem with the 128th regiment, apparently due to poor leadership. Though it had been organized for three years' service, the 128th was soon disbanded and the remaining men reassigned to the 9th Illinois Infantry. William and George were thus reassigned, but Mack apparently was not, though the reason is not known.
First to join the army, Shelton Camden's service was rather brief. He received a disability discharge on April 2nd, 1862. Whether Shelton's disability was due to a wound received at the battle of Fort Henry or Donelson the previous month, or sickness, is not known.


Marble Camden's 40 acre farm is now owned by the Cross family of New Burnside, and was a few years ago
converted into this orchard. This photo was taken on June 2, 2002 looking NE from the road toward the SW corner.

Marble Camden, after loosing his farm, went to visit a sister living in West Plains, Missouri and died there, apparently unexpectedly. His great-granddaughter, Ruth Lee Lawrence Hutchinson, said he was eventually completely exonerated of suspicion of being a Knight of the Golden Circle, but didn't live to know it. His wife, Sally, remained in Illinois, living with one of her sons (probably Christopher) near New Burnside, and died there in May of 1875. Marble's date of death and place of burial are unknown to this writer. Whether he intended to return to Illinois, or have his wife join him in Missouri is unknown also. Sally is buried at the Rich Cemetery, near New Burnside.
Shelton Camden, Marble's first son, eventually left the area and settled near Cherryvale, Kansas, where it is said he prospered as a wheat farmer. The ruins of an old farmhouse south of Stonefort (Oldtown), is still standing (June 2002) though in collapsing condition. This may have been Shelton's house, but was more likely the home of a nephew of the same name.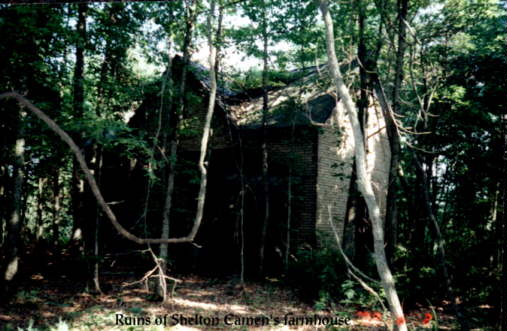 The ruins of Shelton Camden's house as it appeared on June 2, 2002. This
house is located in Section 8, south of the land which comprised Shelton's
original 1854 land patent entries. Thus it is uncertain whether this was the
home of Mable's son or grandson, Shelton (the son of George W. Camden).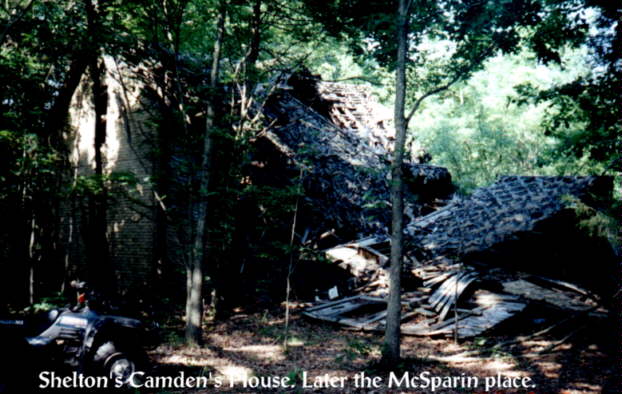 Such sad sights as this are not uncommon in the Shawnee National Forest. Old home sites and
farms, carved from virgin wilderness during the nineteenth century, where families were raised
for three or four generations, now returning to wilderness.

William Camden and his family moved to Missouri and Arkansas, though he returned to Illinois and lived with his daughter, Isabelle and her husband Jeff Hancock, near Stonefort, before he died in 1891.
Two of Marble's sons did not fight in the Civil War—Christopher, and Benjamin. Why they did not enlist is not known, but it must be assumed that most families endeavored to keep enough men at home to do the necessary farm work.
Bitter feelings between the Camden and Lawrence families endured for many years following the war. The shooting of Lemuel certainly continued to bear bitter fruit, as did the shooting of Marble and Mack, and the loss of Marble's farm. Undoubtedly, the Camden family continued under a cloud, since their name had irrevocably linked to the rebel cause due to the incident remembered as the Battle of Camden. But there was an eventual end to the hostile feelings, and finally a reconciliation between the two families.
It was Christopher Camden's daughter, Monta Eudora Camden, and Frank Lawrence's son, Joseph Henry Lawrence, who were responsible for finally laying the bitter feelings of the two families to rest. They were married on March 7th, 1894—thirty-two years after the Battle of Camden. Ironically, it was this same year that the government was again looking into the matter of Lt. Lawrence's pension, and when government agents took the depositions of five of the living witnesses to the unauthorized action, including Aunt Babe.
Though troubled by his wounds for the rest of his life, Lemuel recovered sufficiently to continue to farm and father several children during the post war years. Lemuel had married Phoebe Dalton in 1857, and they had nine children in all, but two died in infancy or early childhood.
Because the records showed that Lemuel had been "absent with leave" when he led the raid on the Camden home, rather than on detached service as he claimed, the resignation of his commission left him under somewhat of a cloud, and initially without a pension. However, he continued to insist that he had been acting under verbal orders from his superior, Captain J. B. Morray. In later years (after Captain Morray had passed away), he persistently petitioned the War Department, Adjutant General's Office, to "correct" his service record of his Battle of Camden action from having occurred while "absent with leave" to while "on detached service." His persistence eventually paid off. An act of Congress restored Lt. Lawrence to pension status. The 44th Congress failed to approve H. R. 3319, of May 1, 1876 apparently failed to pass, but the same bill, as H. R. 524, was introduced in the 45th Congress on October 29, 1877 and passed. H. R. 524, "A BILL Granting a pension to Lemuel L. Lawrence, late second lieutenant of Company B in the Sixth Regiment of Illinois Cavalry Volunteers," was reward for his unrelenting persistence.
That act of Congress did not the end of Lt. Lawrence's problems, however. Because his record still said he was wounded while "absent with leave," he was unable to collect the back pension he thought he was due. He continued to petition for a change of record. His pension file grew to over a hundred pages of petitions, affidavits, correspondence, and other documents. In a letter dated Ozark, Illinois Oct. 8, 1890, Lemuel Lawrence tells the Adjutant General, "...the mistake was only through my ignorance. I did not even think of a pension when I sent in my resignation. I only thought of getting home to die..." He got eight people to sign affidavits to back his claim, including (presumably) some of the men who rode with him on the raid, though none were found in his file. (See full transcript of one of Lt. Lawrence's petition letters).
Then, in 1894, the government sent agents to take the depositions of Elizabeth Tidwell (Babe Camden), and other witnesses to the action at the Camden farm in March of 1862. The depositions obviously did not favor Lemuel's cause, and he apparently lost his pension. However, that wasn't the end of it, as his pension was apparently again restored in January, 1906, seven months prior to his death.
The Lawrence family continued to prosper after the war and were highly respected members of the community. According to The Biographical Review of Johnson, Massac, Pope and Hardin Counties, Lt. Lemuel was a farmer most of his life, occupying his father's farm and homestead, but later built a large house in New Burnside where he lived after 1876. He was "...Justice of the Peace three and a-half years and School Director for many years, serving satisfactorily in that capacity. He was at one time an Odd Fellow and was formerly a Republican, but is now a member of the People's Party. He was a member of William Laurence Post No. 538, G.A.R., recently disbanded, and in religion is a Free Thinker. He has never been sued in his life for any debt he contracted, and has in his possession the first and last note that he ever gave. He is a gentleman in every respect, his word is as good as his bond, and he is one in whom his fellow-men can put a great deal of trust." The William Lawrence Post 538, G.A.R., was named in honor of the William Lawrence Killed at Belmont, Nov 7, 1861. Lemuel died on August 10th, 1906. He and his wife Phoebe (or Phebe, as given on their tombstone), are buried at the Reynoldsburg M E Church cemetery near Ozark, Illinois. (See: Lawrence genealogical information provided by Steve Lawrence and Robert and Barbara Lawrence.)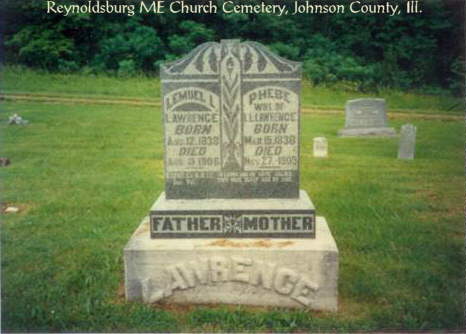 Photo and Information on burial place contributed by Bob & Barbara Lawrence
Sarah Elizabeth, Aunt Babe, married Jonathon Tidwell and they had five children, after which she lost her husband. The family record does not indicated whether this loss was through death or some other cause. She lived on a farm near her brother Christopher for some years as she raised her children alone. Then she moved to a farm in Pope County, perhaps her brother or nephew Shelton's farm. In about 1899, she moved to Cairo, where she died in 1909. She is buried at the Rich Cemetery, near New Burnside, with her mother and several brothers. She is included on the grave stone of her brother Christopher, and his wife, Elizabeth.
Lemuel Lawrence's younger brother, Henry Harrison Lawrence, married Mary Jane Mohler in August of 1864. Their third child, Ernest Franklin Lawrence, was born in 1877. In all probability, this was the "Frank" Lawrence who visited my great-grandparents, Green and Tran Gurley, circa 1920. And it was the conversation between Tran and Frank that my father remembered and which provided my introduction to this story.
WHAT HAPPENED TO MARBLE CAMDEN?
Speculation by William R. Carr – December, 2009
It is rather peculiar that Marble McPatrick Peter Henry Camden, the patriarch of a family that has been so extensively researched and recorded by family genealogists, remains without a known date or circumstance of death. His grave site, if one exists, is unknown to us.
All we know, or think we know is that "Marble Camden, after loosing his farm, went to visit a sister, Cynthia, living in West Plains, Missouri and died there, apparently unexpectedly. His wife, Sally, remained in Illinois, living with one of her sons (probably Christopher) near New Burnside, and died there in May of 1875. Marble's date of death and place of burial are unknown to this writer. Whether he intended to return to Illinois, or have his wife join him in Missouri is unknown also. Sally is buried at the Rich Cemetery, near New Burnside."
But we don't know when Marble was forced off of his farm after losing it, nor when he left for Missouri. We have speculated that it was soon after the Civil War and the aborted trial of Lt. Lemuel Lawrence who was apparently charged with wounding Marble and Mack Camden at the "Battle of Camden." Presumably these charges would have been addressed soon after Lt. Lawrence had recovered from the serious wounds he suffered in that altercation at the hands of Marble's young daughter, "Babe" (Elizabeth) Camden. But given the seriousness of the wound or wounds, it might have been some time before he was sufficiently recovered to stand trial.
As we know, or think we know, Marble who was required to appear at the trial as the injured party, failed to do so, and for this reason lost his farm in lieu of paying bond. We don't have the intended dates of the trial nor the actual date that Marble lost his farm. Nor do we know how much time he was allowed to vacate the premises. Presumably it would have been some time between 1862 and 1866, but it could have been much later that he had to get off of his land – after the wheels of justice had had time to squeak to a final end in the case.
Naturally, we don't know whether Marble left immediately after losing his farm. While we have read that he traveled to West Plaines, Missouri to visit his sister Cynthia, we have no dates. We assume that he left prior to his wife Sarah's death in 1875, and ended up leaving her a widow. We also assumed that he must have gone to Missouri with the idea of remaining there and sending for his wife later. He effectively just disappears, leaving no trail.
Linda (Camden) Goodwin, has speculated that there was more to the Camden-Lawrence difficulties and the following legal problems than we have yet discovered, and that perhaps Marble left for Missouri until things simmered down back in Illinois. This brought to mind something I hadn't considered before, and it has caused me to engage in some somewhat wild speculation, bringing two stories together.
It occurs to me that while the wheels of criminal justice might have been more expedient in the mid-nineteenth century, the legalities of being expelled from ones own land by court processes were probably considerably longer.
That is an interesting hypothesis that I hadn't thought about. But the settlement of the Lawrence claim, or whatever it was (supposedly charges against Lawrence, and Marble didn't appear against him), probably would have been soon after the conclusion of the Civil War, which would make it too early for Tran to go along. I don't think justice lagged very long in those days. However, it may have lagged on the score of divesting Marble of his house and farm. Maybe a few years passed before that was finalized -- which might have stretched into a time when Tran would have gone along. It had never occurred to me that they might have accompanied Marble to Howell County to stay with Cynthia, but it could certainly be possible. Obviously, they all must have been pretty close, both former neighbors and closely related. I'd never thought in terms of Tran possibly being contemporary with Marble. But Sally died in 1875, when Tran was 3. Could it be that Marble left right after Sally had died? That would make more sense than leaving before she died and seeming to abandon her, if only on a temporarily visit.

It's also interesting to learn that Mack went back and forth between Illinois and Howell County. What was the date of his marriage in Missouri? Was he there circa 1875-76?

It also puts the time frame interestingly close to the 1876 "Roscoe, Younger-Pinkerton Fight" ( http://www.angelfire.com/mi2/jamesyoungergang/roscoe.html ) Olivia's brother-in-law, Jim Wright, may have gone along and got a job with the Pinkertons under the name John Boyle (a.k.a. Jim Wright). As a young Civil War veteran, such a job might have been appealing to him. When he and his two companions came face to face with the Younger Brothers, John Boyle high-tailed it into the woods. His friends were killed along with John Younger. Boyle reached Osceola and told the sheriff there that the Youngers had captured his two fellow Pinkertons, and then kept on riding (apparently never again to be seen in those parts). Maybe he fled back to Illinois, and the rest of the family followed as quickly as possible.

That's pure (romantic?) speculation, of course. Another reason they might have returned could have been Marble's death. If they went "with him," things might have seemed considerable discouraging when he died. It's too bad nobody got the facts about his death recorded. Surly it's recorded somewhere.

It remains very strange that we don't know the date or circumstances of Marble's death. Maybe it didn't get recorded for reasons that the family wanted to hide. Maybe he was killed under peculiar circumstances, or maybe simply disappeared and was eventually presumed dead?

My dad remembers his "Uncle Jim Wright" visiting them about once or twice a year at the farm outside of Stonefort. He said "Maw" (Tran) was always able to sense when Uncle Jim was about to show up. Soon after she made the announcement, Uncle Jim would would be seen to come into view in the distance, ambling down the middle of the road. He used to tell my dad (James), and George about his Civil War experiences -- always referring to bombs as "bums."
---
Marble Camden's four sons in the Civil War (Union)
| | | | | | | |
| --- | --- | --- | --- | --- | --- | --- |
| CAMDEN | Rank | Co | Unit | Mustered in | Remarks | Residence |
| SHELTON W | PVT | B | 31 IL US INF | Sep 18, 1861 | Disch. Apr 2, 1862; disability | STONEFORT |
| GEORGE W | REC | F | 128 IL US INF | Nov 4, 1862 | Transferred to Co. G, 9th Ill. Inf. | REYNOLDSBURG |
| GEORGE W | REC | G | 9 IL US INF | Nov 4, 1862 | To Co. A, as consolidated | REYNOLDSBURG |
| GEORGE W | PVT | A | 9 IL US INF CON | Nov 4, 1862 | Mustered out July 9, 1865 | REYNOLDSBURG |
| MARBEL McD | PVT | C | 128 IL US INF | Nov 4, 1862 | ---- | VIENNA |
| WILLIAM M | PVT | F | 128 IL US INF | Nov 4, 1862 | Transferred to Co. G, 9th Ill. Inf. | REYNOLDSBURG |
| WILLIAM M | REC | G | 9 IL US INF | Nov 4, 1862 | To Co. A, as consolidated | REYNOLDSBURG |
| WILLIAM M | REC | A | 9 IL US INF CON | Nov 4, 1862 | Mustered out July 9, 1865 | REYNOLDSBURG |
Henry Lawrence
's three sons in the Civil War (Union)
| | | | | | | |
| --- | --- | --- | --- | --- | --- | --- |
| LAWRENCE | Rank | Co | Unit | Mustered in | Remarks | Residence |
| Benj. F. (Frank) | 1st Serg. | B | 6th Ill Cav | Nov 17, 1861 | Disch. July 8, 1864 as priv.; disability | Johnson Co. |
| Lemuel L. | 2nd Lt. | B | 6th Ill Cav | Nov 17, 1861 | Resigned May 7, 1862. Disabled. | Reynoldsburg |
| Thomas N. | Private | B | 6th Ill Cav | Nov 17, 1861 | Re-enlisted as veteran. | Pope Co. |
| Thomas N. | Veteran | B | 6th Ill Cav | Mar 30, 1864 | M.O. Nov 5, 1865 as Sgt. | Reynoldsburg |
| William | Private | F | 31 IL US INF | Sep 18, 1861 | Killed, Belmont, Nov 7, 1861 | Johnson Co. |
The William given above was not one of Henry's sons. Relationship, unknown.
Colonel Olney in the Civil War (Union)
Captain J. B. and Private J. B. Morray (Union)
and William R. Mounce (Union)
| | | | | | | |
| --- | --- | --- | --- | --- | --- | --- |
| OLNEY, James | QM | HQ | 18 IL US INF | May 30, 1861 | Pro. Lieut. Col. 6th Cav | Shawneetown |
| OLNEY, JOHN | 1LT | F | 18 IL US INF | --- | Revoked. Com's'd. QM | SHAWNEETOWN |
| OLNEY, John | Lt. Colonel | LTC | HQ 6 IL US CAV | Jan 7, 1862 | Discharged Nov 1, 1862 | Shawneetown |
| MORRAY, James B. | Captain | B | 6th IL US CAV | Nov 17, 1861 | Disch. Feb 4, 1864 | Johnson Co. |
| MORREY, Joseph B. | Private | B | 6th IL US CAV | Nov 17, 1861 | Mustered out Dec 1, 1864 | Johnson Co. |
| MOUNCE, William R. | Private | B | 6th IL US CAV | Nov 17, 1861 | Died Andersonville prison Aug 21, 1864 | Johnson Co. |
It is believed that James Olney, above, is the same person as John Olney.
---
Camden land acquisitions in Illinois
Source: Illinois Public Domain Land Tract Sales Database
| | | | | | | | | | | | |
| --- | --- | --- | --- | --- | --- | --- | --- | --- | --- | --- | --- |
| Name/CAMDEN | Discr. | Sec | Twn | Rng | M | Acres | Ea. | Cost | Date | Res. | Location |
| CHRISTOPHER C | S2NW | 10 | 11S | 04E | 3 | 80.00 | .13 | 10.00 | 08/21/1855 | JOHNSON | JOHNSON |
| MARBELL M P H | NWSW | 10 | 11S | 04E | 3 | 40.00 | 1.25 | 50.00 | 08/21/1851 | JOHNSON | JOHNSON |
| SHELTON W | SESE | 05 | 11S | 05E | 3 | 40.00 | .13 | 5.00 | 10/27/1854 | POPE | POPE |
| SHELTON W | SWSW | 04 | 11S | 05E | 3 | 40.00 | .13 | 5.00 | 10/27/1854 | POPE | POPE |
| SHELTON W | W2SE | 05 | 11S | 05E | 3 | 80.00 | .13 | 10.00 | 10/27/1854 | POPE | POPE |
| SHELTON W | E2SW | 04 | 11S | 05E | 3 | 80.00 | .13 | 10.00 | 10/27/1854 | POPE | POPE |
| SHELTON W | SWSW | 03 | 11S | 05E | 3 | 40.00 | .13 | 5.00 | 10/27/1854 | POPE | POPE |
| WILLIAM M | NWNW | 14 | 11S | 04E | 3 | 40.00 | 0.00 | WNT | 01/25/1853 | UNKNOWN | JOHNSON |
| WILLIAM M | NENE | 15 | 11S | 04E | 3 | 40.00 | 0.00 | WNT | 01/25/1853 | UNKNOWN | JOHNSON |
Lawrence land acquisitions
Source: Illinois Public Domain Land Tract Sales Database
Henry G. Lawrence (or Laurence) was Lemuel's Father
| | | | | | | | | | | | |
| --- | --- | --- | --- | --- | --- | --- | --- | --- | --- | --- | --- |
| Name/LAWRENCE | Discr. | Sec | Twn | Rng | M | Acres | Ea. | Cost | Date | Res. | Location |
| HENRY G. | SWNW | 35 | 11S | 04E | 3 | 40.00 | 1.25 | 50.00 | 04/16/1851 | JOHNSON | JOHNSON |
| HENRY G | SENE | 34 | 11S | 04E | 3 | 40.00 | 0.00 | War't | 04/06/1853 | UNKNOWN | JOHNSON |
| HENRY G | NWSW | 35 | 11S | 04E | 3 | 40.00 | 1.25 | 50.00 | 12/02/1853 | JOHNSON | JOHNSON |
| HENRY G | NESW | 35 | 11S | 04E | 3 | 40.00 | .13 | 5.00 | 10/02/1854 | JOHNSON | JOHNSON |
| HENRY G | E2SE | 34 | 11S | 04E | 3 | 80.00 | .13 | 10.00 | 10/02/1854 | JOHNSON | JOHNSON |
| HENRY G | N2SE | 35 | 11S | 04E | 3 | 80.00 | .13 | 10.00 | 10/02/1854 | JOHNSON | JOHNSON |
---
REFERENCES
The Family of Camden, a genealogy, 1939, by Leona Isabel Turner.
A History of New Burnside, Illinois, 1978 by Ned Cross, (first known published account of the "Battle of Camden." The book was also published as The Biggest Little City in Little Egypt). Republished in 1997 by the Johnson County Genealogical and Historical Society.
The Johnson County Heritage Journal, Volume 1, Number 6, of June, 1997, (published by Johnson County [Illinois] Genealogical and Historical Society). P.O. Box 1207, Vienna, Illinois 62995. Including:
"The Battle of Camden" An Updated Version by Gary Tanner.

Letters of November 9th and 11th, 1980, written by Ruth Lee Lawrence Hutchinson, the great-granddaughter of Marble and Sally (Hopkins) Camden and Benjamin Franklin Lawrence. Ruth was born June 28, 1900.

Deposition A, CASE OF Lemuel L. Lawrence on the 20th day of June, 1894, at Burnside Precinct, County of Johnson State of Illinois — Sarah E. Tidwell Deponent
Lemuel L. Lawrence, Volunteer Service File, National Archives, Washington D.C.
History of Gallatin, Saline, Hamilton, Franklin, and Williamson Counties, Illinois, 1887, The Goodspeed Publishing Co., Chicago. Republished 1971 by Unigraphic, Inc., Evansville, Indiana. (See: Lemuel Lee Lawrence's biographical excerpt)
The Biographical Review of Johnson, Massac, Pope and Hardin Counties Illinois, Chicago Biographical Publishing Company, 1893.
Lawrence genealogical information provided by Steve Lawrence, and Robert and Barbara Lawrence.
James Bishop Morray of Southern Illinois, 2002 by Robert Garrett
Black Jack, John A. Logan in the Civil War Era, 1967, by James Pickett Jones
Illinois Rebels, A Civil War Unit History of G Company 15th Tennessee Regiment Volunteer Infantry, by Ed Gleeson, 1996
The People's Almanac, by David Wallechinsky and Irving Wallace, Doubleday & Co., 1975
Encyclopaedia Britannica, (1996 CD version)
NOTE: Mrs. Turner's work, as transcribed, with additions by the present writer, may be found at his web-site at: camden.htm. (http://www.heritech.com/genealogy/camden/camden.htm)
---
Your are visitor number since 1 May, 2004. Thanks for visiting.
Thank you for visiting.

RETURN TO THE FAMILY OF CAMDEN PAGE